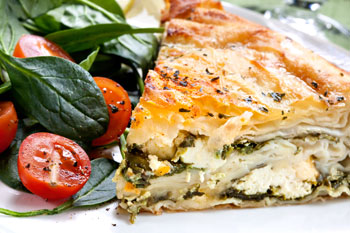 At Colony Diner, much of our food celebrates the many different nationalities of people who visit our restaurant. Our founder, Eric Celik, is Turkish-born and enjoys incorporating Mediterranean flair into special dishes. On our everyday menu, diners will find a variety of Greek, Italian and Mexican-inspired dishes that liven up the usual diner fare found at other restaurants.
What types of international cuisine do we serve at Colony Diner?
Mexican Breakfast
Since breakfast is the most important meal of the day, our restaurant serves it all day, every day! Options range from fluffy pancakes to build your own omelettes with farm fresh eggs. Some of our egg scramlets and omelettes feature Mexican influence. What are the main ingredients in Mexican food? They include, but are not limited to:
Avocados
Chili peppers
Onions
When you're craving a spicy and filling breakfast, stop by Colony Dinner for our Mexican Melt, Fajita Omelette, Mexican Omelette or craft your own!
Greek Breakfast, Lunch and Dinner
Greek food falls under the umbrella term "Mediterranean food," which also includes Turkish cuisine. At Colony Diner, you'll find Greek food on the menu for all three meals! You may recognize the use of the following ingredients in cuisine inspired by Greece:
Feta cheese
Black olives
Oregano
From omelettes to salads and main dishes, there is plenty of Greek influence on our menu. Popular plates include chicken or vegetable souvlaki, spinach pie and gyro on pita bread.
Italian Dinner
Italian food is a favorite around the world! Fresh pasta, decadent cheeses and wines are all famous in Italy. We offer a variety of Italian cuisine for dinner, perfect for when you're craving a savory meal. Traditional Italian ingredients include:
Tomatoes
Pepperoncini
Oregano
House-made specialties include chicken, eggplant, shrimp or cheese ravioli parmigiana. Plus, you can never go wrong with the customary spaghetti and meatballs.

Visit Colony Diner in Wallingford to enjoy international cuisine for breakfast, lunch and dinner!