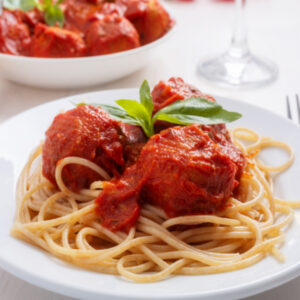 There are many reasons why someone might decide to follow a gluten-free diet. A person may suffer from celiac disease or another common medical condition that causes extreme discomfort or pain after consuming gluten.
Others may try a gluten-free diet in the hopes of losing weight, increasing energy or improving overall health.
Whatever the reason, you can find all your gluten-free favorites at Colony Diner & Restaurant! Here are a few of the many meals you can find on our menu.
Gluten-Free Breakfast
Luckily, many common breakfast foods do not contain gluten, including eggs, fruits and bacon. However, there are some popular meal choices that normally do, like pancakes, waffles and French Toast.
Yet there is an alternative – Colony Diner offers these favorites gluten-free! You can enjoy light and fluffy pancakes or delicious thick cut toast, worry-free.
Have it all with our Breakfast Combo: Two Gluten-Free Pancakes or French Toast with Two Eggs and Two Bacon Strips.
Gluten-Free Lunch
You can never go wrong with a Gourmet Salad! At Colony Diner, we have a large variety of tasty salads to choose from. Add your favorite vegetables and meat for the ultimate flavor.
If you are looking for something more filling, choose a savory N.Y. City gluten-free wrap or a mouthwatering quesadilla, packed with great flavors on a gluten-free tortilla.
Ask for our California Chicken Quesadilla with Diced Grilled Chicken Breast, Diced Tomatoes, Crispy Bacon and Cheddar Cheese.
Gluten-Free Dinner
Nothing says the perfect dinner quite like an Italian Special. Simply request gluten-free pasta! Pair your noodles with delicious meatballs or opt for gluten-free ravioli stuffed with cheese. You can still enjoy that side of bread and butter by substituting gluten-free bread.
Meat and fish are naturally gluten-free! For many people, this can open up their dinner options to our fresh seafood, tasty steaks, roasted chicken and more.
Try our Prime Rib, cooked to perfection, served with Au Jus, Salad and Vegetable.
Gluten-Free Dessert
Most sodas are gluten-free, making our Root Beer Float with Creamsicle Soda an ideal dessert option. Looking for something more simple? Coffee or Tea can be a great choice to help you relax after a big meal. As another benefits, our Coffee and Tea are bottomless!

Most items on our menu can be made gluten free! All you have to do is ask your server. Visit Colony Diner & Restaurant to discover your favorite meal.