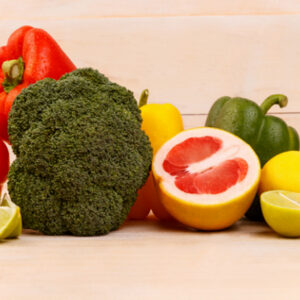 During these uncertain times, we're all focused on health and safety. Within our bodies, we have a collection of biological structures and processes that defend against disease, called the immune system.
Strong immune health is one of the best ways to fight off germs and promote wellness. Certain foods and beverages can help keep this vital system functioning.
Improve Immune Health
Support your immune system with a balanced diet. The US Department of Agriculture recommends a colorful plate! Healthy meals include fruits and vegetables, sources of protein and whole grains. Keep the following foods, vitamins and beverages in mind:
Vitamin C
When you have a cold, you've likely been told Vitamin C will help speed your recovery. It increases white blood cell production to fight off infection. Since Vitamin C is not produced or stored in the body, get your daily dose with citrus fruit, broccoli, spinach and bell peppers.
Plain Yogurt
The probiotics in plain yogurt help ease cold symptoms. Look for varieties with live and active cultures. To add flavor, a drizzle of honey offers anti-inflammatory properties.
Ginger
Ginger root is a popular spice in Asian cooking. It helps prevent inflammatory illnesses and may be linked to lower cholesterol levels, which improves overall health.
Oysters
Oysters have zinc, another mineral that helps ward off viruses. Like Vitamin C, zinc activates white blood cell production for an improved immune response.
Almonds & Seeds
All-natural almonds are a great source of protein and healthy fat. Almonds also contain Vitamin E, an antioxidant that helps with immune system functionality. Allergic to nuts? Pumpkin seeds are another healthy snack that contain zinc.
Tea
Tea contains powerful antioxidants that destroy cell-damaging free radicals and enhance immune function. Some varieties also reduce risks of cancer, heart disease and diabetes.
Other Lifestyle Factors
In addition to healthy food choices, you can boost your immune system with these simple lifestyle changes:
Exercise More
Quit Smoking
Limit Alcohol
Get More Sleep
Reduce Stress
Wash Hands

Colony Diner remains open to serve your family during the COVID-19 global pandemic. Our regular menu is available for takeout and local delivery. Find us on DoorDash, Uber Eats or call 203.269.9507 to place an order!