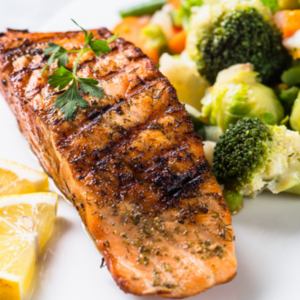 After months of cold weather, many of us look forward to being outside in the warm sunshine. Yet when summer arrives, some of us are quick to worry about our diets. This season brings many beach days and pool parties, but also some unhealthy foods. We believe we shouldn't have to deprive ourselves of the foods we love for the stigma of "swimsuit season".
What are some healthy seasonal foods to enjoy this summer?
Berries
The berries of the summer season, including raspberries, blueberries and blackberries, are low in calories and high in fiber. Berries are versatile enough to be incorporated into every meal! You can eat them on their own, blend them in a smoothie or top a yogurt or salad.
Gazpacho
This cold soup is made with raw, pureed vegetables. Antioxidant-rich and vitamin-packed tomatoes are blended together with garlic and onion, then topped with refreshing cucumber pieces for the perfect meal on a hot day.
Grilled Fish
Burgers and hot dogs are the staple food for backyard barbeques, but these are not the only meats that taste great on the grill. An omega-3 rich fish like salmon is a great vessel for different marinades. Create a tasty meal with your favorite summer flavors in less time!
Mushrooms
This flavorful, low-fat meat substitute is fibrous and protein-rich. Mushrooms are meaty, which make them a great replacement for ground beef in a burger. They key is not to deplete the nutritional value of a mushroom burger with sauce and cheese.
Salad
Salads can be eaten any time of year but summer is arguably the most versatile season! You can incorporate fruits, vegetables, legumes and seafood that reminds you of the beach. Avoid creamy dressings, cheese, croutons and fried components.
Watermelon
Ice cream is not the only food that can cool you down! Watermelon is refreshing, juicy and hydrating, can be enjoyed raw or grilled, and has health benefits. The fruit is anti-inflammatory and a great source of lycopene, an antioxidant that can reduce stroke risk.

Colony Diner & Restaurant in Wallingford is the perfect place to stop for a bite to eat on your way to and from the beach. This summer, stop by to see us and be sure to try our new vegan options!