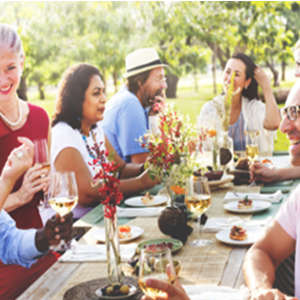 When summer arrives, do you find yourself hosting frequent dinner parties and backyard BBQs? Some of us love to have other people in our home for a big meal, whereas others with less experience may become easily stressed. If there's one thing we know, it's how to cook for large crowds!
We offer 7 quick tips to help you be a more successful host.
1. Stick to What You Know
When you're hosting a large group of people for dinner, it's not the best time to try out a new recipe with 25 steps. Cooking what you already know well lessens the chance of a mistake that could spell out disaster for your whole meal. Oftentimes, these dishes include tried and true favorites that your guests will love!
2. Determine What's Enough
Although it can be difficult to know exactly how much food to make, you don't want to be caught without enough. To be on the safe side, plan a generous portion per person and remember to account for extra guests. Some people enjoy sending their guests home with leftovers too, so you can try making enough for 30 people instead of 20.
3. Prepare and Cook Ahead of Time
Stress levels will only increase if you wait until the day of your party to begin cooking. There are many steps a host can take to prepare days in advance, including chopping vegetables, cooking and freezing main dishes. Plus, when you only save a few dishes to make the day of the party, you have more time to mingle with your guests.
4. Don't Be the Bartender
Serving drinks to all your guests consumes time, adds stress and drains your wallet! Rather than offering made-to-order drinks with a variety of liquors, make large batches of a few different cocktails. You can serve these signature beverages in pitchers or dispensers and allow guests to help themselves. At large events, people often bring their own drinks too.
5. Space Out Oven Use
When it's almost time to serve the main meal, you should never have 12 items waiting to be put in the oven. Some hosts may think it's acceptable to average the cooking temperature of two items to save time, but this increases your risk of serving undercooked food. Instead, space out your cooking and keep foods warm with hot plates or slow cookers.
6. Don't Be Afraid of Pre-Made Items
Especially when hosting a large crowd, there is no shame in serving a pre-made appetizer or dessert! If you have a difficult time with pastries or need a quick dip to go with chips, stopping at the grocery store for a pre-made item is fine. Or, stop by Colony Diner to pick up a freshly baked pie or decadent cake for dessert!
7. Make Sure You Have Utensils
While your mind will likely be on the food and the comfort of your guests, don't forget to have enough utensils! This includes forks, knives and spoons for each person, as well as serving spoons, tongs and carving forks. Plus, if someone brings an appetizer, it's important to have an extra tray or bowl for serving.
If you're feeding a large crowd this summer, get Colony Diner involved! We offer catering services with cold salad platters, desserts and more. Contact us today to learn more.