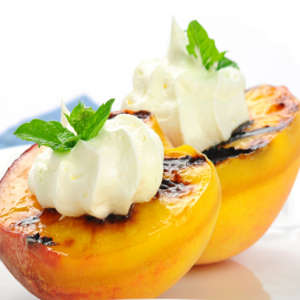 Memorial Day is the unofficial start to summer, which means backyard BBQ season has arrived! After you've finished munching on hot dogs and hamburgers, potato salad and deviled eggs, what's for dessert? Summer can be a challenging time to serve sweet treats because the weather is hot and some guests may be watching their waistlines.
Yet, we believe any party would be incomplete without dessert. Here are our tips to help complete your summer menu.
How to Serve Dessert in Hot Weather
As the host of a large party, the last thing you want is to serve melted dessert. However, that doesn't mean that you can't serve ice cream and other frozen treats. Rather than let the temperature stop you from making what you want, take our advice:
Try a no-bake recipe. Who wants to eat warm molten chocolate lava cake in sweltering heat?
Make an announcement that dessert is ready, so nothing sits out for too long.
Walk around the yard serving frozen treats, so your guests can eat them right away.
Best Desserts for a Summer Picnic
At Colony Diner we love all desserts, but as the host of a gathering, it's especially important to think about seasonal selections. In the summer, most people want to beat the heat. A refreshing and colorful dessert allows them to indulge, but keep cool at the same time. For those who still crave comfort food in the hot and sticky temperatures of summer, we have a few ideas to satisfy their appetites too.
Refreshing Foods
In the uncomfortably humid heat, there is nothing like cold ice cream. When you're hosting a party, take this favorite dessert to the next level! Rather than an ice cream bar that can get messy quick, make your own ice cream cake or ice cream sandwiches between homemade cookies. If you don't think ice cream will please your crowd, consider these other refreshing treats:
Ice pops made with pureed fruit
Fruit parfaits with frozen yogurt
Fresh fruit served with crème fraiche
Seasonal Foods
During the summer, some of the most delicious fruits are in season. Paired with chilled chocolate chunks, you could make a colorful fruit kabob that tastes good and is fun to eat. If you'd rather stick with one fruit, blueberry tart and strawberry shortcake are popular choices for summer.
Comfort Foods
Despite the warm weather, some of us still crave decadent desserts. We recommend that you incorporate fruit to keep it light, but you can create a deliciously indulgent treat for your guests with one of our favorite summer fruits: the peach. Try these at your next picnic:
Peach cobbler
Peach crisp
Grilled peaches with cream
At Colony Diner, we make fresh bakery items in-house every day. The next time you're craving a sweet treat, stop by our Wallingford restaurant!