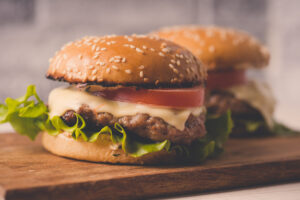 At Colony Diner, we proudly offer vegan and gluten-free options! Our recently expanded vegan menu now features plant-based versions of classic diner favorites, including the patty melt, macaroni and cheese, pancakes and burgers.
As the plant-based burger has grown in popularity this year, we've added this choice to our vegan selections! What exactly is the Impossible™ Burger?
What Makes It Impossible?
The Impossible Burger is not your typical veggie burger. A veggie patty does not have the same taste or texture as beef, while the Impossible Burger has the characteristics of a classic beef patty.
Created by Impossible Foods, the meatless burger has a similar color, flavor and even "bleeds" like ground beef. It has four main ingredients:
Soy and potato proteins
Coconut and/or sunflower oil
Methylcellulose, a fibrous binder
Soy heme for flavor
At Colony Diner, our Impossible Burger is topped with vegan cheddar, lettuce, tomato and vegan mayo, served with French fries or a small house salad.
Is the "Meat" Safe to Eat?
This vegan substitute for ground beef is safe to eat, unless you are allergic to its ingredients. The burger is made from genetically modified soy and the FDA has approved the soy-based heme that flavors the meat. The Impossible Burger and regular beef patty are close in calories but plant-based meat has fiber content and typically less fat than animal meat.
Plant-Based Ground Beef
Red meat has been linked to common health concerns, including obesity and heart disease, so meat substitutes are often considered more healthful. Plants also emit less greenhouse emissions than the production of meat for our consumption.
In addition to the Impossible Burger, we use plant-based ground beef to make our vegan patty melt, vegan nachos, impossible quesadilla and vegan spaghetti with meatballs.

There truly is something for everyone at Colony Diner. Visit our Wallingford restaurant to try our diner classics, new vegan and gluten-free menu items!