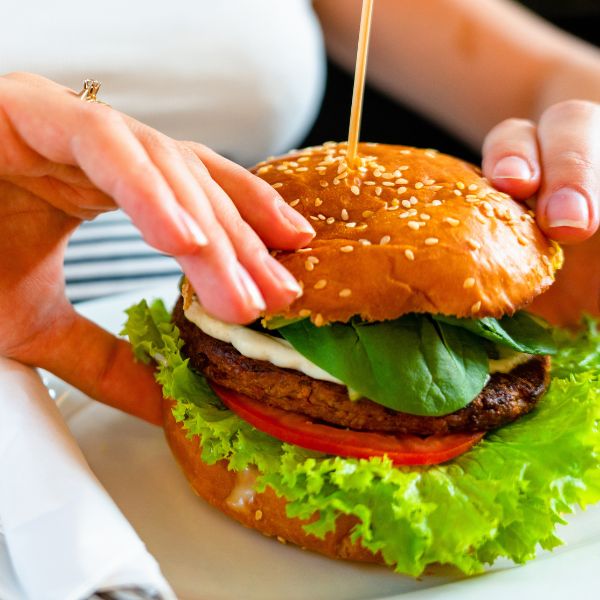 The market for plant-based burgers has experienced significant growth over the past several years, including the popularity of veggie burgers.
As the variety continues to grow, understand the more common types of veggie burgers available before your next backyard barbecue or trip to our diner!
Mixed Vegetables and Grains
Veggie burgers made from various vegetables and grains are considered the original recipe. The vegetables are combined with rice or another grain and shaped into a patty, then browned or baked on both sides. The vegetables in this mix range from sweet potatoes to mushrooms, peppers and onions finely chopped and pre-cooked.
While these patties are vegetarian-friendly, they are not always suitable for vegans if cheese or egg make their way into the ingredients.
Beans
Looking to increase the protein content without soy? Bean-based veggie burgers made with black beans, lentils or chickpeas deliver this protein punch, along with fiber to make you feel full and satisfied.
While pureed beans make up the bulk of the patty, vegetables – including potatoes, spinach or peppers – round out the flavor and nutritional profile.
Mushrooms
You'll find this type of veggie burger in one of two forms:
A large portobella mushroom cap is grilled or breaded ahead of time.
Chopped mushrooms are combined with other ingredients in a patty, then grilled or baked.
In both cases, mushrooms tantalize the tastebuds with more umami flavor than the traditional veggie burger, while having fewer calories than other options.
Grain Burgers
While vegetables or beans may be included, grains like rice, quinoa or bulgur deliver fiber or protein can be seasoned and shaped in a number of ways, and often result in a more substantial patty that cooks evenly and holds its shape.
Falafel
A variation on the bean-based veggie burger, this popular Middle Eastern and Mediterranean street food is traditionally prepared with chickpeas and fava beans before getting shaped into a burger patty and fried for a crunchier texture.
Tofu Burger
Today, you'll find this soy-based product marinated, baked, pre-grilled or combined with vegetables in a patty formation to increase the protein content.
Soy Burgers
Purists may argue that soy burgers aren't true veggie burgers, as soy protein makes up the bulk of each patty. Until the arrival of other plant-based meat substitutes, soy burgers replicated the density and umami taste of meat better than other products on the market. Today, brands offer some type of soy burger, plain or combined with other ingredients.
Plant-Based Burgers
Pea protein delivers a similar taste and experience as soy, whether a burger or a ground product that can be shaped into a patty. Pea protein is used by Gardein and Beyond Meat for burgers and other offerings.

Explore an expansive range of veggie burgers and meat substitutes at Colony Diner! View our vegan menu before ordering today.