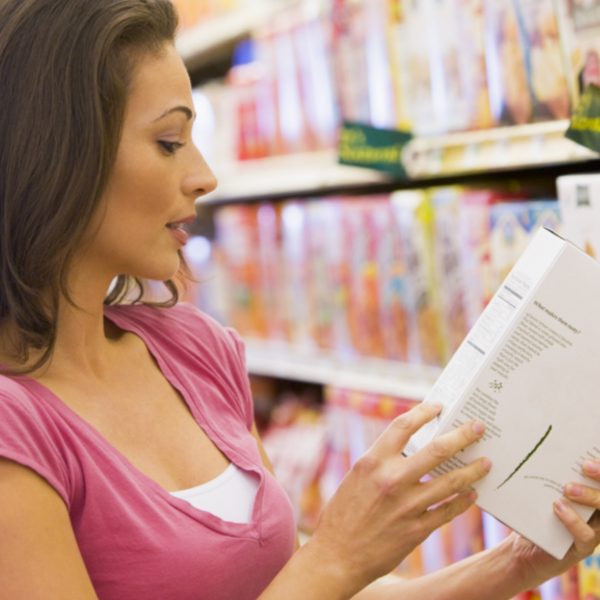 When you pick out foods at the grocery store, do you look at the nutrition label? Some people may look for certain ingredients that cause stomach sensitivity, while others are counting calories on a new diet.
Regardless of the reason, it's important to understand the information provided on food labels. Here are a few tips to help you break it all down.
Serving Information
The first item on most food labels is the serving information. This includes the portion size and how many servings can be found in the package.
According to the FDA, serving sizes must be based on the amount of food typically consumed, rather than how much people should consume.
Depending on the package, serving sizes may be provided in the form of cups, pieces, tablespoons or another appropriate amount. You'll also find the same amount in grams.
Calories
Next up is calories, one of the most common pieces of information people look at on a food label. The amount provided is the number of calories per serving. For example, if a serving size is one cup and there are two servings per container, then 100 calories per serving would equal 200 calories per container.
Looking at foods like cereal, you may see two columns under the caloric information. One side will give the calories per serving while the other provides the calories per serving in addition to the half cup of milk you add!
Percent (%) Daily Value
Before looking at the nutrients in a certain type of food, it's important to understand the percent daily value. These amounts are shown as grams, milligrams or micrograms and represent the amount of that specific nutrient in a single serving of the particular food.
According to the FDA, the percent daily value tells you how much one nutrient in a serving of food contributes to a daily diet. Two thousand calories is used for general nutrition advice.
Generally, 5 percent DV or less per serving is considered low, while 20 percent DV or more per serving is considered high.
Nutrients/Ingredients
The label also tells you what's actually in the food you are consuming. This includes the vitamins and minerals our bodies need to stay healthy like calcium, potassium, Vitamin D and iron. You can also see the total sugar, fat, cholesterol and carbohydrates, which may be important if you have high blood pressure, diabetes or are on a strict diet.
You should also be able to see the individual ingredients added to the food, such as corn syrup, wheat, milk, eggs and nuts. This information can be crucial for people who suffer from food allergies.

If you have any dietary restrictions or a food allergy, the staff at Colony Diner can provide the nutritional information of your favorite dish! Stop by our Wallingford restaurant today.