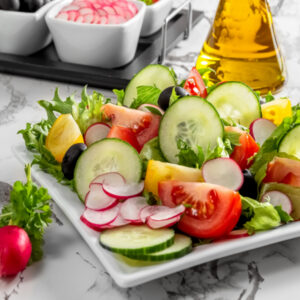 When it comes to healthy eating, you typically look for nutritious foods packed with vitamins and minerals. Yet have you ever considered foods that contain water?
There are many fruits and vegetables with a high water content, which can help you stay hydrated. Among its many benefits, drinking enough water helps keep organs functioning, can prevent infections and improve sleep quality!
Why Is Water Important?
Water is essential to overall health and well-being. Water helps regulate body temperature, prevent dehydration, bring nutrients and oxygen to our cells and flush out waste.
It's recommended to drink at least 8 glasses of water a day, however this amount can vary depending on a person's height, weight and health.
Signs of Dehydration
Extreme Thirst
Fatigue
Dizziness
Confusion
Dry Mouth
Dark Urine
Foods High in Water
Drinking enough water every day can be challenging – why not eat it? Here are a few water-rich foods to include in your diet.
Cucumber
This vegetable is made up of about 96 percent of water, the highest of any food. Cucumbers can be added to sandwiches, salads or enjoyed with a side of hummus. They are also filled with Vitamins K and C!
Try: Our Trio Salad served with one scoop of tuna salad, chicken salad and egg salad over a bed of lettuce with roasted red peppers, tomatoes, kalamata olives and cucumbers.
Tomatoes
Made up of about 95 percent water, tomatoes can be enjoyed in an omelet, on a sandwich or in pasta sauce! Along with staying hydrated, tomatoes are a great source of Vitamin A, which helps improve immune health.
Try: Add sliced tomato to your Avocado Toast on open-faced multi-grain bread.
Apples
Containing about 86 percent water, apples are another great option to include in your diet. This low-calorie fruit is also filled with antioxidants that help prevent heart disease. Whether you are slicing them up for a pie or adding them to a fruit salad, apples can be made into the most delicious treats.
Try: A plate of Apple Pancakes topped with apple compote and sprinkled with cinnamon and powdered sugar.
Lettuce
Similar to cucumbers, lettuce contains about 96 percent water. In addition to its high fiber content, this vegetable can also be very filling. There are many different types of lettuce including butterhead, romaine and iceberg. Top it off with your favorite dressing, vegetables and protein to make a delicious salad.
Try: Our Classic Spinach Salad served with fresh baby spinach, fresh slices mushrooms, crisp bacon, red onions, hard-boiled egg and your choice of dressing.

You can find these water-rich foods and more at Colony Diner & Restaurant! Dine with us or order to-go today.