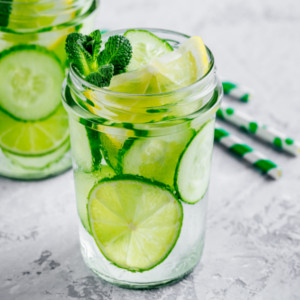 Summer is beach and bathing suit season! When snacking at the beach or a pool party, the last thing you want to experience is bloating. Abdominal bloating occurs when excess air gets trapped in the intestines. It can be the result of the foods we eat, overeating or an underlying medical condition.
Rather than feeling sick or lethargic, keep these foods in mind for light summer snacking that keeps you energized.
Hydrating Vegetables
Veggie platters are a go-to summer snack. The typical mix you get in a grocery store has six vegetables: Carrots, celery, broccoli, cauliflower, cucumbers and tomatoes. However, vegetables from the cabbage family can cause unwanted stomach discomfort, due to an indigestible carbohydrate. Stick to more hydrating veggies, such as peppers and cucumbers.
Fibrous Fruits
When it's warm outside, there is nothing quite like a cold ice cream cone or smoothie. Yet after this decadent treat, you're left feeling full and bloated. Fresh fruit is a great substitute for dessert cravings – especially the ones that don't leave you hungry. Bananas, mangoes and raspberries are all loaded with fiber, a type of carbohydrate that the body cannot break down. Fiber helps curb hunger so you don't overeat and keeps your digestive track healthy.
Nuts and Seeds
Before you reach for that bag of potato chips, consider nuts and seeds. These snacks provide the same crunch you crave from chips, without the added fat and salt content. In particular, almonds, walnuts and sunflower seeds are great for heart health.
Popcorn
For those with an allergy or aversion to nuts, popcorn is another great alternative to chips. Rather than putting butter or salt on the popcorn, there are healthier ways to add flavor:
Ground black pepper
Garlic powder
Smoked paprika
Ground cinnamon
Popcorn is 100 percent whole grain and contains fiber! According to the USDA, one serving of three cups is a great way to help meet your daily grains goal.
Flavored Water
Abdominal bloating is not restricted to food. Bubbly, carbonated beverages trap gas in the stomach. We recommend flavoring plain water with fresh fruit or veggie slices. By eliminating soda and energy drinks, you not only reduce bloat but avoid wasting empty calories on sugary beverages.

At Colony Diner, we are dedicated to cooking with fresh ingredients and serving the most delicious meals. After a long day of relaxing at the beach, stop by our Wallingford restaurant for one of our salads or protein-packed omelets – breakfast is served all day!