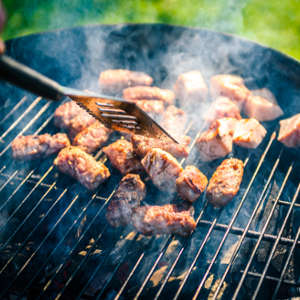 Nothing says "summer" quite like an outdoor party. During the warmer months, it seems like someone is hosting a barbeque every weekend! When it's your turn to host, you can't go wrong with these 5 tips for the best summer backyard BBQ.
Plan Ahead
Many people plan their gatherings in advance, so everyone on the guest list can attend. Planning ahead is also a great way to get a handle on how much food and drink you need to buy. Oftentimes, you end up with too much leftover food or not enough, when someone brings an unexpected guest. To avoid these scenarios, confirm your guest list the week before the party so you can shop appropriately.
Go Potluck
Especially for a casual summer gathering, there is no shame in asking guests to contribute. In fact, many people will offer to bring something out of respect for the hosts. The best route is to provide the main dish – hamburger, hot dogs, kabobs – and have guests bring a side dish, snack or drink. That way, you don't have to worry about pleasing everyone's tastes!
Batch Drinks
One of the smartest moves you can make as a party host is to serve a signature drink. When beverages are served in pitchers, you don't have to worry about mixing cocktails for all the party guests. When people arrive, hand them a glass of your batch drink and you're off the hook for refills!
Be Food Safe
A cute summer hack for keeping food cold outside? Fill a kiddie pool with ice! When dinner is served, remember that perishables should not be left out of the refrigerator for more than a couple hours. Beyond that timeframe, the risk of foodborne illness increases. Protect your leftovers by putting them away after the meal, but let guests know they can always have more.
Use Seasonal Ingredients
What's a summer party without fresh ingredients? Take advantage of what's in season:
Heirloom Tomatoes
Peaches
Summer Squash
Watermelon
When it comes to dessert, grilled fruit is perfect for summer. Avoid serving anything melty or heavy that no one will want to eat in the hot weather.

Colony Diner always cooks with fresh, seasonal ingredients to create delicious homecooked meals. When you need a break from cooking, let us serve you a meal you'll love! Visit our Wallingford restaurant today.