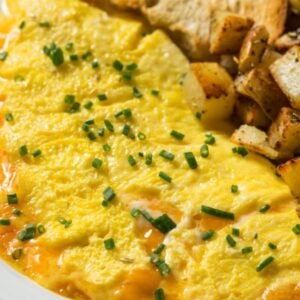 When you're deciding on breakfast at Colony Diner, the first food that comes to mind is likely eggs. We have many dishes centered around eggs, including omelettes and scramblers, which we call "scramelts".
Both include eggs whisked with other ingredients like cheese, meat and vegetables, served with toast and home fries. Yet beyond these similarities, cooking techniques vary.
What Is an Omelette?
An omelette starts with a beaten, whisked egg. Other ingredients are then added, including milk and seasonings. From here, the beaten egg mixture is placed into a frying pan or on a grill top to cook, ideally on medium-high heat.
Rather than stirring the egg, the filling will be added on top before the egg is folded over. The egg and filling will cook until you no longer see a runny, transparent texture. Once everything is thoroughly cooked, the omelette can be served. The result should be fluffy and creamy, with cooked vegetables, meat and melted cheese inside.
What Is a Scrambler?
Scramblers are based on scrambled eggs, with a few ingredients similar to an omelette added. Despite these similarities, cooking technique varies.
Starting with whisked eggs, a scrambler cooks on medium-low to medium-high heat to achieve a creamier consistency. Once the eggs are poured onto the grill or pan, they are stirred immediately to prevent solidification. Stirring breaks up the eggs and they'll gradually develop a thicker, custard-like consistency with a softer texture than an omelette.
Any meat or vegetables will be stirred with the eggs but cheese should be added at the end to melt on top. The eggs in a scrambler cook relatively quickly but can dry out and take on a tough texture if left on for too long. When the majority of the curds are cooked but not hardened, the scrambler is ready.
Variations for Omelettes and Scramblers
Not every scrambler or omelette follows these rules:
A French omelette starts with scrambled eggs cooked on low heat for a creamier texture.
American and Western omelettes, also called a Denver omelette with ham, peppers, onions and cheese, let these ingredients sit with the eggs before it's turned over. Generally, the meat and vegetables are mixed into the eggs and any cheese serves as the filling.
Whether you enjoy eggs scrambled, in an omelette or burrito, our breakfast menu has a range of choices. To start your day on a flavorful note, stop by or place a to-go order!